Depending on your browser, you may have to hit the back arrow to return to this page after viewing the movies.
Some historical background (which reads like an episode of The Twilight Zone).
My father passed away in February of 2008. My mother obtained two adjacent cemetery plots.
On my mother's birthday, the following March, 2008, my family and I got together with her, had a cake, and discussed getting a headstone for my father's grave. We agreed that we should obtain a military headstone, available to all veterans from the government as an interim grave marker. My mother and I agreed to the following inscription we would want on the stone:
Robert Ferrando
1917-2008
WWII
Capt. US Army Corp. of Engineers
Beloved Husband, Father and Grandfather
My mother called to get a copy of my father's discharge papers (DD-214) from the veteran's administration and an application for the headstone. She received them within a month. Around spring break (Easter time) we were visiting my mother and my sister Cecilia came down from Binghamton to visit also. When my mother showed my sister what we intended to do, my sister threw a fit and ridiculously claimed that the cross design on the military headstone was unsatisfactory and in a temper tantrum, screamed that she would be in charge of getting a headstone and absconded with the DD-214 and application for the stone and left for Binghamton.
At this point, my mother was obviously upset and stated that Cecilia has MS and that she's sick and we should let her calm down before we do anything else.
In the summer, around mid July, we were at my mother's house and my sister Becky was visiting from Florida. While in private, in the basement of my mother's house, I approached my sister Becky about talking to Cecilia and agreeing on a headstone. My sister Becky told me "I've seen Cecilia's CAT scans and MRIs and she has three large legions on her brain" and Becky told me that Cecilia would probably die within a year and therefore I shouldn't make an issue of the headstone. Becky was in dramatic hysterics, tears flowing, that she was so upset about her sister's condition and apparently shared this info with my mother earlier.
(It wasn't until several years later that I realized that both I and my mother were being gaslighted as my sister is still alive and well and creating discord among all the family members). Not wanting to upset my mother any further, I didn't bring up the headstone for a while.
It was always my understanding that my mother would be buried next to my father in the adjoining plot she owned, and she told me that we could get a double stone for her and dad after she passed. She also stated that since the graves could hold two caskets that Cecilia could be buried with her because my mother feared that Cecilia was on such bad terms with her husband and children, that her own family might not properly bury her. My mother's mind was especially burdened with this worry ever since Becky told her about Cecilia's supposed imminent demise.
As you can clearly see from the photographs, my sister placed a plastic crucifix screwed to a paving stone as a makeshift grave marker. Within a couple of years, the plastic laminate sign that was provided by Matthew's Funeral home, had cracked and weathered poorly. It appears that it was ultimately damaged beyond repair and eventually it disappeared. My father's grave was left totally unmarked until my mother passed away in May of 2017. Apparently, out of embarrassment, my sister made up a paper sign with my father's name on it, which coincides with the time my mother was buried, therefore it was obvious that she didn't want people who attended my mother's funeral to see that my father had been in an unmarked grave for many years.
As can be seen in the photographs, my sister defied my mother's wishes and buried my mother on top of my father in the left hand grave-site. I guess she wanted the right hand grave-site solely for her own use.
My mother has been gone for almost a year and a half and now neither of my parents have a headstone, it's like they never existed. Why my sister would want to punish both my parents by leaving them in an unmarked grave apparently is a symptom of the cluster B personality disorder my sister suffers from which is commonly referred to as malignant narcissistic personality disorder.
---
UPDATE - NOVEMBER 2018

---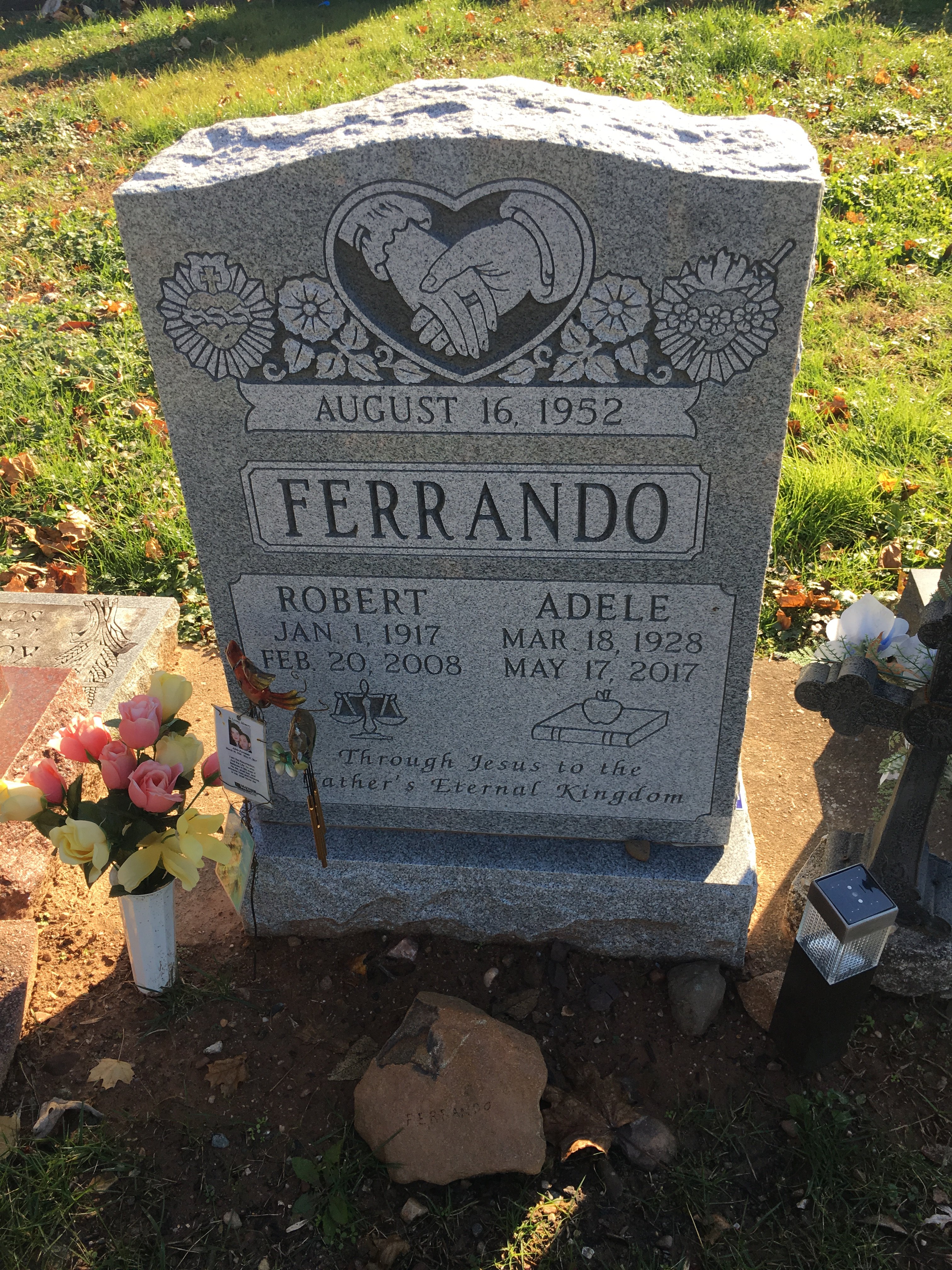 ---
My parents finally have a headstone on their grave.

Sometime during the course of this last month, a headstone miraculously appeared.
It's a pity that my father had to wait ten and a half years (since his death) and my mother had to wait a year and a half (since her death) for this to occur.

It would appear that the existence of this website (for more than a year now) finally shamed my sisters into doing the right thing.

Although it isn't exactly what I would have chosen for them, never let it be said that I would withhold credit where it was due. It is a fitting and nice grave marker.

Rest in peace with dignity my parents. I love you and miss you very much.


---