The sound of my mother being verbally abused by my sister when she was trying to reach me on the phone and did not realize that my answering machine had picked up.
The following morning, after receiving this message and determining that an emergency did not in fact exist (after calling back my mother and speaking to my sister later that afternoon) I arrived at my mother's house and found her abandoned by my sister who had left for Binghamton around 8 PM the previous evening. I made a simple repair to the heating system while my wife fed and cleaned up my mother (who I found had been sitting in her wheel chair in a badly soiled pull-up at her kitchen table all night).
Looking around my mother's house I was appalled to discover the following conditions:
1) A flimsy home-made plywood ramp siting precariously on cinder blocks.

2) A ratcheting chain fall installed over the toilet in the bathroom.
4) Some type of strange religious writing painted in large letters on my mother's bathroom wall.
At this point, (Thursday November 19, 2015) I determined that I would be staying at my mother's house to provide the 24 hour care she needed, and my wife left to pick up some of my clothing and to do some food shopping since there were only some unopened meals on wheels dinners in the refrigerator and my mother informed me that she had primarily been eating instant mash potatoes and baby food cereal made with milk.
Around mid-day I received a call from the Volunteers of America that they were sending out two social workers to check on my mother because they received a call (apparently from one of my sisters) that there was no heat in my mother's house. They arrived about 15 minutes later. I showed them that the heat had been restored earlier, showed them the pump coupling that had been replaced, and demonstrated to them that the radiators were quite warm and assured them that the house never went below 70 degrees.
I explained that my sister had left my mother unattended, and showed them the objects depicted in the pictures above. I further assured them that my mother would not be left alone and that I would try to arrange to hire a live in 24 hour healthcare aide. They were satisfied but insisted that they must file a report with Adult Protective Services because my mother had been left alone and a no heat complaint had been filed. I had no objection and welcomed any help they or APS could provide. They spoke with my mother and my mother assured them that she was content with the care she was receiving from me and my wife.
After the social workers left we discussed with my mother the care she needed (over dinner) and asked about how to bathe her. She told us (my wife and me) that Lola (a health care aide either my sisters or my niece had hired for 4 hours a week) would be coming Friday evening and that Lola would bathe her.
The following morning, Marina Potashnik, a supervisor from APS arrived at the house and spoke briefly with my mother (after I woke her, she was still in bed) and my wife and I showed Ms. Potashnik the conditions we observed and explained our situation and our immediate plans to her. She told us that APS would begin a guardianship proceeding for my mother but since that would probably take 6 or more months it might be better if I initiated the proceeding myself.
Later that day, the health care aide arrived and I asked my mother where the shower bench was (it was always left in the tub previously) and my mother said that my sister had thrown it out. (I later found it dumped upside down in the yard near the garage.) My mother was incapable of stepping over the side of the tub and used to sit on the bench seat and swing her legs (with assistance) into the tub. The health care aide told us that my niece used to help her get my mother into and out of the tub (but my niece had left at the end of October) so my wife assisted Lola lifting my mother into and out of the tub. After my mother was cleaned up and returned to her wheelchair, My wife and I explained to Lola our situation, (as it was obvious that my mother liked and trusted Lola), and asked Lola if she might be able to care for my mother full time. She informed us that she might be available but would have to check with her agency and get back to us.
For the next few days, things progressed well, I toileted my mother and did laundry and administered her medications, while my wife cooked and shopped and kept my mother occupied with comforting conversation. My wife checked in every other day with APS to report on my mother's condition and care.
The following Tuesday Lola called and said she would be available to stay as a live-in aide as of Thursday night which we also reported to APS. Once Lola started, we set her up sleeping arraignments. Lola would stay with my mother at night while I went home, and I or my wife would return in the morning to feed my mom and administer her medications. I would stay during the daytime to allow Lola to get some sleep. Lola was able to take over some cleaning and cooking chores while my wife and I would do food shopping and laundry.
All seemed to be going well until Saturday November 28, 2015. On that day my mother called my sister in Binghamton, NY and the following transpired during the call:
Click here for a link to a short video file.

Then (if necessary) click the back arrow on your browser or click on "Home" on the left-hand MENU to return here.
In this video my mother is sitting in her wheelchair in front of the TV in her living room, talking to my sister (on the phone) in Binghamton. I noticed my mother getting extremely agitated during the call and recorded this clip on my cellphone.
After this call, I tried to calm my mother down and when she settled down my wife and I asked her what happened. She told us that my sister told her that a siding contractor was coming either Tuesday or Wednesday to begin stripping the siding off her house and that she should not allow me to interfere with the work. My mother told us that my sister signed a contract and that she was powerless to stop the job because Cecilia (my sister) told her that Ed Walker M.D. (my other sister Becky's) husband was paying for the work. She said she did not want the work done and that Cecilia would not even let her choose the color scheme. I told my mom to relax and I would see what I could do about this matter.
Looking through some records I found in a folder in my mothers kitchen, I found a contract for siding with a vendor named Robert Volpe. The contract was signed A. Ferrando and my mother said that that was the way Cecilia was signing her credit card receipts. Evidently as I later discovered, my sister had been going on a ten month shopping spree charging it all to my mother's credit card. Virtually none of the purchases (which totaled $3,000.00 to $4,000.00 per month were for my mother or her care. Previous to my sisters arrival my mother's credit card bill was less than $1,000.00 a month and usually much less than that. There I found a charge of $5,000.00 (as a down payment) to Mr. Volpe's company. The total for the siding job was to be $28,500.00 according to the contract.
I composed the following letter to Mr. Volpe and my wife faxed it to his place of business the next day (Sunday):
Affordable Home Improvements
84 Almond Street
Staten Island, NY 10312

November 28, 2015

Dear Mr. Volpe,
I am Charles Ferrando, son of Adele Ferrando who is the owner of 52 Clinton Place. I have been managing my mother's care as of November 19th because my sister, Cecilia Nicholas, who's behavior indicates mental illness, abandoned her after assuming responsibility for her care upon her discharge from Seaview Rehabilitation in January, 2015.

It has come to my attention that you are in contract for $28,500.00 to replace the siding on 52 Clinton Place. My mother is now the subject of the New York City, Human Resources Administration, Dept. of Social Services Adult Protective services guardianship proceeding and all of her finances are going to be reviewed by the court to determine if she was capable to make decisions regarding her finances and her needs. She has expressed to me, repeatedly, severe reservations about having her house resided because she was pressured by my sister (who abandoned her) to accept a color scheme that is not to her liking and pressured by my sister to accept an unnecessary residing of her house. In addition, she has been led to believe that she is not financially responsible for this siding job because she was told by my sister, Cecilia, who you were obviously dealing with, that the work was going to be paid for by, Dr. Edward Walker, of Florida, my other sister's husband.

My mother is under the impression that the work will begin the week of November 30th. My mother is extremely agitated as the result of her abandonment by my sister and the prospect of an unwanted and unneeded residing of her home. My mother's mental and physical well being is my primary concern. In addition, since all financial matters regarding my mother will have to be reviewed by a court appointed guardian, there is a serious question as to whether you would ever receive payment for your work. Even if my brother inlaw, Dr. Edward Walker, does agree to pay for this work, given that my mother has repeatedly expressed strong reservations about having this work done and she is the sole owner of this house,then only upon court review, could the work be allowed. For the health and welfare of my mother, and in your own best business interests, I strongly suggest that you delay the start of any work regarding the siding of this house. My mother cannot be further emotionally distressed in this matter at this time, and hearing the workman starting work that she doesn't approve of may cause her severe harm. Someone from the court appointed Guardian's office will contact you in the near future to inform you if and when any work can be performed on this home. We, may wish to employ you in the future, to do other, more necessary improvements inside of the home to better accommodate her changing needs in her old age.

Thank you for your understanding in this matter.
Sincerely,

---
I had learned from my mother and other sister that Cecilia had been arrested in Binghamton, NY and taken to "behavioral" several years ago and that she later brought a lawsuit against the Binghamton Police Department (which she lost in court). A simple google search revealed the following: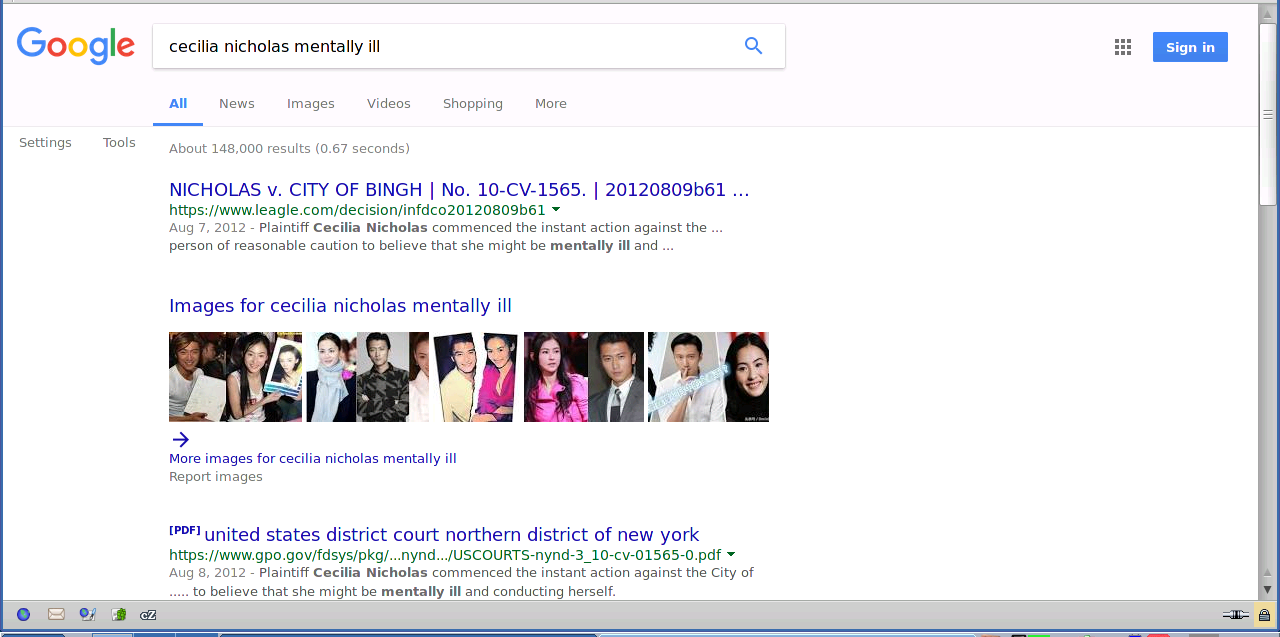 ---
Mr. Volpe called me that Monday and told me that he had indeed planned to start work on my mother's house that week. He said he was unaware of the situation and had never met my mother, nor had he ever spoken to anyone other than my sister regarding this work. He stated that my sister took the contract into the house and returned a minute or two later with it signed and presented it to him. He agreed to delay any work at that time as he wanted his clients to be happy with his work.
I told my mother that the siding job had been put on hold and she was relieved and grateful.